Director's Scoop
Aug 29, 2019 · Uncategorized
September 2019
Big things are about to get underway at your Sedgwick County Zoo! Earlier this year we announced that we had plans to update the front entrance, which is original to the Zoo's opening in 1971, in order to provide a strong first impression as you enter the Zoo that matches the quality of the exhibits and experience inside. The project will include three elements: a new entryway, administration building, and expanded gift shop.
The new entrance will include eight ticket windows, compared to the current four, which will improve guest experience by reducing wait time to enter the Zoo and a new state of the art membership office with seating in the waiting area. The new administration building will replace the small 60-year-old office and will feature a board room with an aquarium. The expanded gift shop will be double the size of the current facility and will have a kennel on the parking lot side that will provide our out of town guests traveling with their cat or dog a safe, climate-controlled place to house their pet while they visit the Zoo.
We anticipate construction starting in January 2020. In preparation we will be opening a temporary entrance in early December. The temporary entrance will be located north of the Cargill Learning Center through the site of the current Asian Farm. The current Asian Barn has been around since the very beginning of the Zoo and is in need of serious repairs. We feel that the best decision will be to take it down and move the animals to other areas within the Children's Farms.
The new entry complex is expected to be completed by May 2021, just in time for the Zoo's 50th anniversary!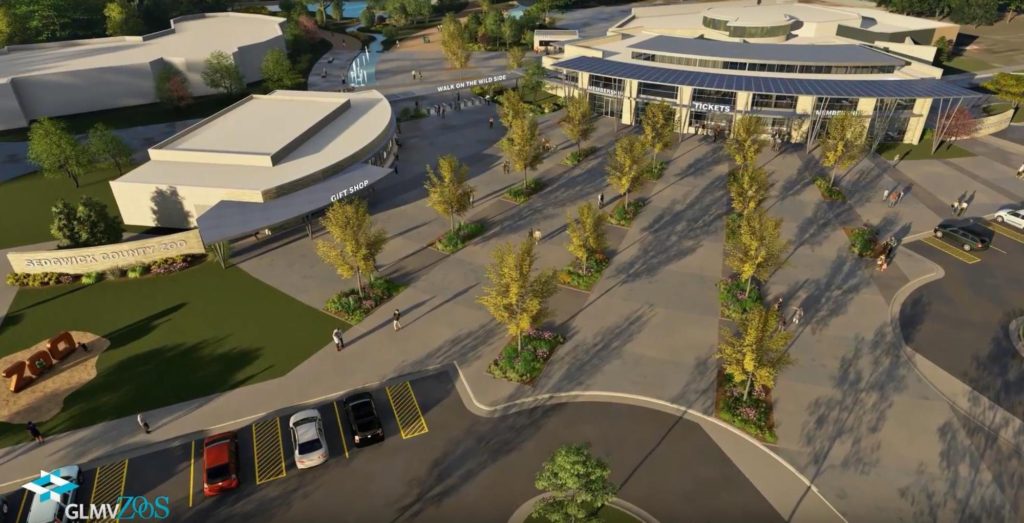 August 2019
Your Future Zoo is making great progress! We have selected a contractor to handle the building of the new entry complex and we're on track to begin construction in December. It will be a very busy fall for us – getting ready for the construction as well as a lot of exciting announcements coming your way!
Do you follow the Zoo on Instagram? We just launched #TakeoverTuesdays and so far, we've gone along with keepers from Elephants, Tropics, and the Veldt. Be sure to follow us there for more behind the scenes looks at the Zoo each Tuesday.
July 2019
Zoo staff have been busy this summer with conservation projects. Hopefully you saw the Instagram takeovers in May when we had 2 staff members participating in Rainforest Rescue in Australia and 2 others were in Saipan with Mariana Avifauna Conservation. This month, we've traveled to Missouri for the American Burying Beetle reintroduction, and to Tahiti for a reintroduction of the Partula snail. Watch our social media for all of those highlights!
Last month, we welcomed a team of peers from other accredited AZA zoos and aquariums to complete our accreditation inspection. Our staff thoroughly enjoyed the opportunity to show off the wonderful work they do each and every day. The evaluation went without a hitch and we have already created a plan to address the feedback that was given. I can't wait for what this next chapter will bring. If you haven't already, be sure to check out the plans for Your Future Zoo.
June 2019
We were thrilled to be recognized by USA Today's 10Best Reader's Choice awards as having one of the best zoo exhibits in the country. Our Elephants of the Zambezi River Valley Habitat took second place, and we're so thankful to our community for submitting their votes. We're certainly proud of our elephant habitat!
We are also proud to launch a new Wild Encounter – guests now have the opportunity to feed and get to know our Aldabra Tortoises. Aldabras are one of the largest of all tortoises, weighing upwards of 500 pounds. They can live up to 150 years, which makes studying them quite difficult as they often outlive their researchers! The goal of the Wild Encounter program is to offer interactive, educational opportunities for guests to see the Zoo from a different perspective. The Tortoise Encounter is the second of the Wild Encounter program, which launched in Sept. 2018 with the Penguin Encounter. We have more Encounters coming very soon, and we can't wait to share that news with you later this season.
May 2019
In the February Scoop I discussed our conservation efforts here at the Zoo with an emphasis on green practices. This month, I want to focus on the field conservation programs that involve our staff. If you haven't visited us on Instagram lately I would recommend that you do so. Four members of our staff are currently overseas working on two different conservation programs and they have taken over our Instagram account in order to take us with them.
Scott Newland and Anne Heitman from the Bird Department are in the Commonwealth of the Northern Mariana Islands again to participate in the Mariana Avifauna Conservation (MAC) project. This project is a partnership between the Pacific Bird Conservation group and CNMI Division of Fish and Wildlife, and is designed to give the forest birds of the islands the best chance for long-term survival. They will be in Saipan for three weeks, so watch for regular posts from them on Instagram about this important conservation work.
Pete Logsdon from the Horticulture Department and Phil Horvey from the Bird Department are in Australia for two weeks to work with our conservation partner Rainforest Rescue. Rainforest Rescue has been protecting and restoring rainforests in Australia and internationally since 1998. Goals are achieved by purchasing and protecting the biodiversity of high conservation value rainforest, and by re-establishing rainforest through planting, maintenance and restoration. Sedgwick County Zoo has been supporting Rainforest Rescue with financial donations since 2014, but this is the first year that our Zoo staff has participated in their annual planting event.
While the Zoo has provided financial support to many conservation programs over the past two decades, we are making a concerted effort to have direct participation of our staff in more field conservation projects every year. Stay tuned in the coming months for additional field conservation updates as we will have staff participating in the release of American Burying Beetles in Missouri, the annual census of Black-footed Ferrets in northwestern Kansas and population surveys of Armenian Mountain Vipers in Armenia.
In 2018 our direct financial contribution to conservation was $166,408.42. We continue to emphasize to our members and guests that by your support of the Sedgwick County Zoo, you are having a global conservation impact. By visiting the Zoo we want you to know that you are directly contributing to the conservation of wildlife and wild places. Thank you for your support of the Sedgwick County Zoo!
April 2019
Our application for accreditation has been submitted, our inspection team has been selected and the only thing left to do is set the dates of the onsite inspection. At this point we anticipate that our inspection will be during the month of June. So how does the AZA accreditation process work? Here's the breakdown, as AZA explains it:
Selecting the Experts
"First, AZA carefully selects the expert Accreditation Commission members who evaluate each zoo and aquarium. These experts are leaders in their fields and have many years of experience and education in zoo and aquarium operations, animal management, and veterinary medicine. There are twelve experts on the Accreditation Commission."
What We Evaluate
"The Accreditation Commission evaluates every zoo or aquarium to make sure it meets AZA's standards for animal management and care, including living environments, social groupings, health, and nutrition. We also make sure that animals are provided with enrichment, which stimulates each animal's natural behavior and provides variety in their daily routine. The Accreditation Commission also evaluates the veterinary program, involvement in conservation and research, education programs, safety policies and procedures, security, physical facilities, guest services, and the quality of the institution's staff. And because a zoo or aquarium needs a strong foundation in order to continue to meet high standards, accreditation also evaluates each institution's finances, its governing authority, and its support organization. In other words, we look at everything!"
How We Evaluate
"Every candidate for accreditation fills out a detailed questionnaire which includes copies of their policies, procedures, records, lists, and reports. The application takes many months to complete and six months to study and evaluate. After the Accreditation Commission studies the application, a team of inspectors visit the zoo or aquarium in person. Each team includes at least one veterinarian along with animal and operations experts. The inspectors spend several long days at the zoo or aquarium visiting every area, interviewing staff, checking records, and examining the physical facilities and the animal collection. The inspectors then write a detailed report about everything they saw and evaluated and submit it to the Accreditation Commission."
The Accreditation Commission Meeting
"The Accreditation Commission meets twice a year to consider all candidates for accreditation. They examine the application, the supporting documents submitted by the zoo or aquarium, the inspection team's report, and any information and comments received from outside organizations and individuals. The zoo or aquarium's senior officials must go to the Accreditation Commission's meeting to answer questions. Finally, the Accreditation Commission decides whether or not to grant accreditation. It doesn't matter if an institution is new or was previously accredited, standards are high and not every candidate receives accreditation."
Staying Accredited
"AZA-accredited zoos and aquariums are constantly evolving and standards are continuously being raised. Each zoo or aquarium must keep up with these changes to remain AZA-accredited. And to prove it, they must go through the entire accreditation process every five years. AZA believes that nothing is more important than assuring the highest standards of animal care and our accreditation process does just that!" (Accreditation Basics, AZA Website)
March 2019
The Sedgwick County Zoo is proud to be accredited by the Association of Zoos and Aquariums (AZA). Institutions complete the full accreditation process every five years. 2019 is an AZA accreditation year for SCZ, and there will be a lot of work going into that – I'll keep you posted on all the details as we go along. First, it's important to understand the AZA accreditation standard.
All public animal exhibits in the United States are required to be licensed by the United States Department of Agriculture (USDA). Of the 2300+ USDA licensed facilities only 10% (233) are accredited by the AZA. AZA accreditation is considered by zoo professionals worldwide to be the 'gold standard' of accreditation processes. This distinction is due to the incredibly high standards and stringent requirements that AZA has established.
So, what is the purpose of AZA accreditation? The AZA accreditation standard reads:
"AZA accredited zoos and aquariums are complicated operations with important goals. The highest goals of AZA accreditation include exemplary animal care and welfare, and inspiring guest engagement through effective education and conservation. AZA accreditation standards and requirements represent decades of modernization utilizing science, experience, and an unrelenting resolve to create a positive and lasting impact on guests, and to conserve our world's wild animals and wild places.
"The AZA Accreditation Program provides all zoos and aquariums the opportunity to examine, meet, or exceed the highest standards in the profession. The accreditation process combines internal (stakeholder) and external (peer-review) top to bottom assessment, resulting in the most scrutinized, specialized and dynamic organizations in the world dedicated to animal care, welfare and well-being, public engagement, education, and conservation and science. Institutions successfully accredited by AZA must continuously demonstrate excellence in all areas of operations and regularly adapt to new and evolving standards." (Preamble, 2018, The Accreditation Standards and Related Policies)
We'll bring you more details on the application process and the onsite inspection next month.
February 2019
AZA-accredited zoos and aquariums are more important today than they have ever been. In an era of nature disconnect in our society, we have the opportunity to connect people, especially children, with the animals we care for to create empathy, concern and to foster the development of pro-environmental behaviors. Research shows that children who have an appreciation for nature are more likely to take conservation action.
Our role extends beyond the front gate of the Zoo. We actively support wildlife conservation programs here at home and around the world. Our support is through financial contributions as well as staff participation. We have staff that regularly assists with field conservation efforts for Black-footed Ferret in northwestern Kansas, endangered birds on the Mariana Islands in the Pacific Ocean and rare vipers in the mountains of Armenia.
As conservation leaders we understand that creating a safer world for wildlife and wild places is directly related to the conservation of natural and man-made resources. With that in mind, our business operations here at the Zoo need to incorporate sustainable practices that conserve resources. We need to demonstrate our commitment to wildlife conservation by "walking the talk" and modeling ways that our guests can also become part of the solution for the environmental problems contributing to the decline of wildlife worldwide.
Green practices are being implemented throughout the Zoo and we will continue doing so as a regular part of our business operations moving forward. We have started installing bottle refill stations and energy efficient hand dryers in locations around the Zoo. In our Beastro restaurant you will now find eco-friendly plates, cups and flatware. Over the coming months you will also see new recycling and waste receptacles being installed throughout the centrum of the Zoo. These new bins are made of recycled milk jugs. Some of the changes we're implementing are things you can do at home as well. Together we can create a sustainable future for people, wildlife and wild places here in Kansas and around the world.
This is just the beginning, stay tuned for updates on our conservation initiatives here at the Zoo!