Beat the Summer Heat at
Twilight Tuesdays
Jun 30, 2023 · Featured
Looking for tasty food, summer concerts, and family fun? Then you won't want to miss Twilight Tuesdays at the Sedgwick County Zoo.
Since 2012, the Sedgwick County Zoo has changed up its operating hours for Twilight Tuesdays, brought to you by Cox Communications.
Every Tuesday in July, the Zoo is open with extended evening hours. From 9am to 8:30pm, enjoy $3 admission for the whole family.
Here are the top 5 reasons you should attend Twilight Tuesdays:
Explore the Zoo After Hours
The Zoo is open with extended hours during Twilight Tuesdays.
Many of our animals are more active in the evening, so you'll be able to see them interact with their environment in a way you might not have before.
"Most animals will be in attendance. Some animals like to go to bed early, it's just their thing," Director of Events Bridget Beckler said. "Because it is a little cooler, the animals do spend some time outside. So, they'll be right there with you."
It's not just the animals that stay out later, activities run later as well. Feed a giraffe, touch a stingray, ride a train, and take a boat ride into the setting sun.
Beat the Summer Heat
July is often the hottest month of the year. Staying open later means you get to enjoy cooler temperatures.
"We know it's extremely hot during the day. So, we've had various evenings throughout the years where we stay open longer to hopefully let it cool off, to let our guests enjoy a cooler night at the Zoo," Beckler said.
Summer Concerts
Another thing that sets Twilight Tuesdays apart is the live music.
While there's no summer concert July 4 due to the holiday, the other weeks are packed full of lyrical levity. This year's lineup includes Jared Brown and the Dirt Road Misfits, Across the Pond, and The Llew Brown Band.
This will be the fourth year the Llew Brown Band has performed a summer concert at Twilight Tuesday.
"It's just a fun experience as far as a festival-type setting, or an outdoor show," Lead Singer Llew Brown said.
Concerts start at 5:30 and go until the Zoo closes. Beckler said the live music adds a unique element to the night that everyone enjoys.
"There are people that come out strictly just for the bands. They'll bring a lawn chair and they set it up near the stage in the shade and they go get a margarita and they watch the bands play," Beckler said. "But then if you're passing by and your kids want to stop by the stage and dance or if you want to listen to music for a while, you can. You don't have to stay the whole time, but it adds just a different element of fun."
Toothsome Treats
Enjoy dinner or a sweet treat at Twilight Tuesdays.
Whether you're chowing down on pizza at the Beastro, noshing on nachos, or savoring a slushie at Nectar, you won't be leaving the Zoo hungry.
Beckler said that families often grab dinner at the Beastro and go enjoy a picnic outside.
The Stingray Bar is also open! Sip on a sweet margarita as you stroll past the sites.
Family Fun
Twilight Tuesday is a great way to spend quality time with your family.
"The feel of it is a lot more relaxed," Beckler said. "There isn't that pressure of seeing the whole Zoo because you've paid $3. You can come back again and see it."
A lot of people come to Twilight Tuesday straight from work. The summer event's crowds are mostly made up of families and kids.
"We get to play, the kids are smiling and walking by and get to dance around here. I mean, it's a different atmosphere," Brown said. "Everybody in my band all has a family and kids and all that. So, we like playing for families and that type of gathering."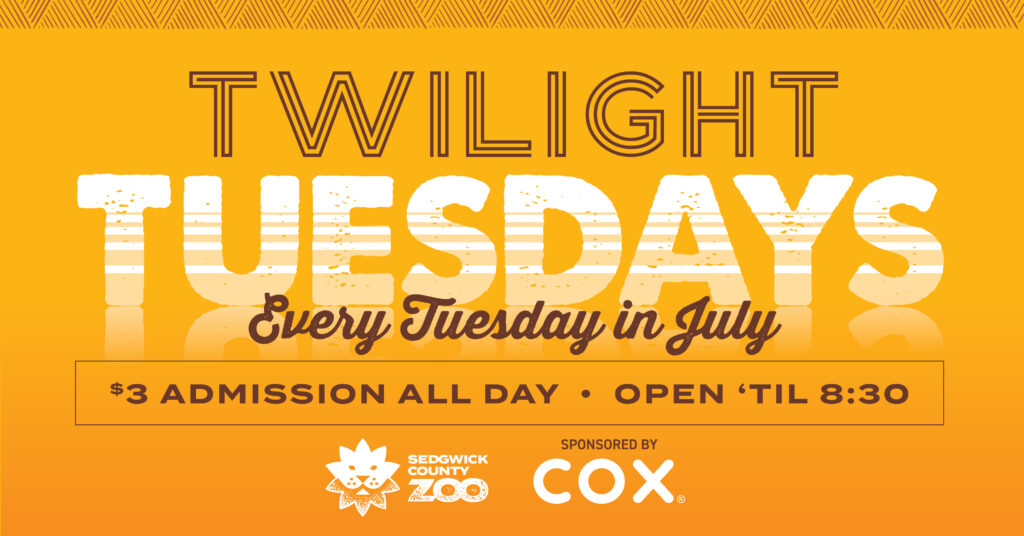 Twilight Tuesdays offer family fun for everyone.
Enjoy the summer concerts by dancing to the tunes, or just sitting and singing along. Taste delectable delights and see the animals appreciate the cool evening weather as much as you do.
But most importantly, Twilight Tuesdays offers the opportunity to be with friends and family and experience the Zoo in a new and exciting way.