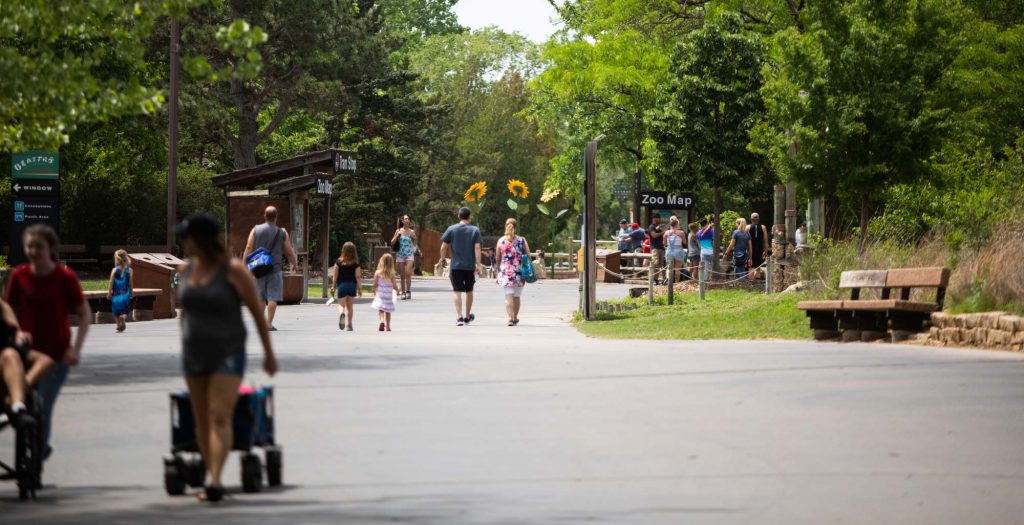 Frequently Asked Questions
We have the answers.
How much are tickets?
Age
Online Cost
Gate Cost
Young Children
(ages 0–2)
FREE
FREE
Children
(ages 3–11)
$15 /person
$17 /person
Adults
(ages 12–61)
$20 /person
$22 /person
Senior Citizens
(ages 62+)
$15 /person
$17 /person
Members
Become a Member
FREE
FREE
Can I purchase tickets online?
Guests are encouraged to purchase tickets online in order to reduce time waiting in line.  You can purchase tickets here.
Do you offer discounts?
We offer special rates for groups of 20+ and school groups. Guests with a military ID receive $1 off regular gate admission for everyone in their party. On Wednesdays from November through February, tickets are $3 per person for Winter Wednesdays.
What kinds of payment do you accept?
We accept cash and most major credit cards. We do not take personal checks.
How much is a membership?
Memberships start at $110 for a whole year of unlimited visits and more. See our Membership page for full details and benefits.
Is there a fee for parking?
Parking is FREE!
What are your hours?
9 AM to 5 PM
What days are you closed?
We close the Friday and Saturday after Labor Day for our annual fundraiser, Zoobilee. But we are open all other 363 days of the year.
Can we bring our stroller or wagon?
Absolutely! We also have strollers available for rent at the gift shop or the guest service kiosk inside the Zoo entrance.
Do you have wheelchairs available?
Yes, wheelchairs are available to rent. Call 316-266-8217 to reserve a wheelchair or inquire at the guest service kiosk inside the Zoo entrance.
Can my child bring a skateboard, bicycle, or scooter?
For the safety of our animals and our guests, we do not allow bikes, scooters, skates, skate-shoes, skateboards, hoverboards, or Segways.
Do you have lockers available for rent?
No, we do not have lockers available. Feel free to bring a cooler, bag, or wagon to carry your items around with you.
Can we bring pets to the Zoo?
To ensure the safety of our animals and yours, only service dogs are permitted in the Zoo. Limited space is available in our Pet Parking area for guests traveling with pets.
Can we take pictures of the animals?
You're welcome to take photos and video for your personal use only. Commercial photography is allowed only with prior written permission.
Is smoking allowed at the Zoo?
Smoking is not allowed inside the Zoo. Guests may exit the Zoo in order to smoke in the parking lot and reenter as many times as necessary.
Are outside food and beverages allowed?
Yes, visitors can bring in food and non-alcoholic beverages. You can also stop by one of our food and beverage locations:
Beastro
Hamburgers, hot dogs, pizza, salads, fruit, plus daily specials
Nectar (open seasonally)
Ice cream, snacks, funnel cakes
Nganda Cafe (open seasonally)
Hot dogs, nachos, Siberian Chill
Baobab Cafe (open seasonally)
Hot dogs, nachos, pizza, Siberian Chill
Kookaburra Canteen (open seasonally)
Bottled drinks, hot dogs, pretzels, sno-cones
What extras can we see during our visit?
Visit our Zoo Calendar to find out what's happening while you're here!
Do you have a gift shop?
Yes! Our Zoo Store is located in the entry plaza. We offer a full selection of merchandise, including books, SCZ logo clothing, educational toys and much more.
Do we have to pay Zoo admission to shop at the Zoo Store?
No! The Zoo Store has a separate entrance from the Zoo gate, so you can stop by just to shop!
Can we leave the Zoo and come back on the same day?
Yes. Just hold onto your receipt and present it at the admissions window when you return, or ask for a stamp on your hand.
Do you offer rain checks?
We're open rain or shine! The Zoo does not offer refunds or rain checks due to animal visibility or weather conditions. Special circumstances, including extremes in weather, construction, births, feeding, and veterinary procedures, may require that certain animals be removed from public viewing to ensure the best possible care.